EFP FOREIGN TRAINING PROGRAMME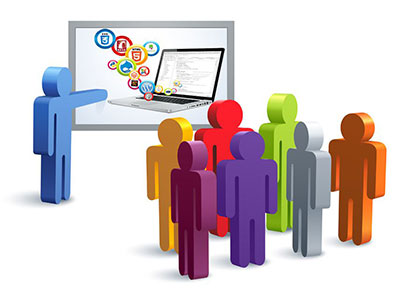 The overseas training is provided either by the International Training Centre (ITC) of ILO at Turin, Italy or by the Association for Overseas Technical Scholarship (AOTS) at Tokyo, Japan. Our policy is to gain maximum benefits out of these training programmes. For the purpose, EFP intends to carry out a survey seeking information regarding dissemination of information and sharing of knowledge from those who have already obtained foreign training.
EFP Policy is to provide maximum benefits to its member organizations for availing the opportunity of foreign training in a number of areas including Human Resource Management, Total Quality Management, Industrial Relations, Total Management System, Occupational Safety & Health Management and a number of other subjects by advising them about intended programmes. However, seats are always limited and we are unable to meet the expectations of our members. To overcome this problem, EFP is to devise a policy in the best interest of employers.
POLICY ON CHILD LABOUR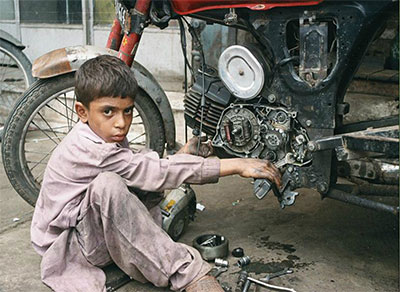 Employers' Federation of Pakistan has a policy to discourage use of Child Labour and Worst Forms of Child Labour at the workplace. As a result, we do not find any child labour violations in the formal sector, especially among the EFP Members. EFP also supports the programme of ILO for the elimination of Child Labour and Worst Forms of Child Labour from the workplace and also supports the implementation of Millennium Development Goals (MDG) by 2015.
The policy is to create awareness and sensitize employers against the use of Child Labour/Worst Forms of Child Labour (WFCL) in the country. As a policy, Codes of Conduct are prepared in consultation with the employers, government and workers representatives for use by the employers to take guidance while employing children in their enterprises.
POLICY ON BONDED LABOUR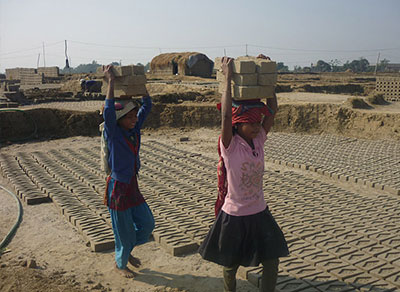 Employers' Federation of Pakistan considers that Forced Labour or Bonded Labour is becoming a significant risk for employers. Although it is mostly seen in the informal sector but its existence can also be traced in the supply chains of some National and Multinational Companies. As a consequence, we now know that there are companies which have a provision against forced labour in their codes of conduct.
Employers' Federation of Pakistan after having published its report on "Promoting the Elimination of Bonded Labour in Pakistan", has developed a 'model contract' to be used by Kiln owners who employ Kiln workers. Urdu translation has already been completed and now it is to be presented to Bonded Labour Minster of Sindh for his consent which may then be implemented.
POLICY ON OCCUPATIONAL SAFETY & HEALTH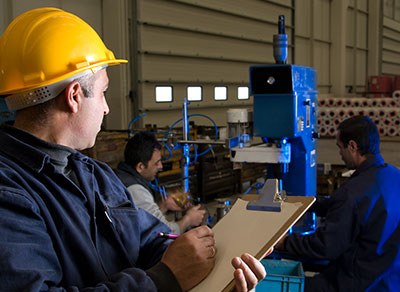 EFP is especially concerned about the safety and health of the employees. As a policy, EFP is encouraging its members to develop and improve safety and health environment at the workplace. For the last six years, EFP is organizing OSH Seminar on 28th April, on the occasion of the International Day on Safety & Health at work. Award competition is also held for the Best Practices in OSH, which is encouraging enterprises to improve their safety and health environment for the betterment of their employees.
POLICY ON HIV/AIDS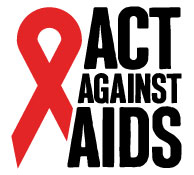 Pakistan in the last few years has moved from a 'low prevalence' epidemic to a concentrated epidemic. The epidemic has, however, not-spread to the general population. EFP Policy is to eliminate this menace from the work place and to stop its spread among the general public. EFP in collaboration with ILO is advocating to take all necessary measures to tackle the menace of HIV/AIDS. Employers' Federation of Pakistan has a commitment to the key principles of ILO's Code of Practice on HIV/AIDS which is already publicized nationally & internationally. Copies may be obtained by members from EFP if not already received.
POLICY ON ADVOCACY & LOBBYING
Employers' Federation of Pakistan is engaged in advocacy & lobbying to promote the interest of employers. The new policy adopted by EFP is to outreach to the people who matter. The ILO through its International Training Centre at Turin, Italy conducted a 5-day training programme on advocacy & lobbying for the members of EFP Managing Committee stressing the need to meet the men of authority at the corridor of power for advocating the measures to be taken for the betterment of country's economy and investment climate. Likewise, EFP has to Lobby for protecting the interest of employers and promoting growth and competitiveness.
POLICY ON EMPLOYMENT
For the people, the key to escaping poverty is to have a job. For the employers to create more jobs means to grow with decent employment. To create awareness for the decent employment, Employers' Federation of Pakistan promotes the international standards on employment policy. EFP pursues a policy designed to promote full, productive and freely choosen employment. This creates more productive jobs resulting in higher productivity.